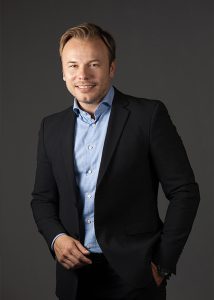 Biography
My goal as a lawyer is to consult, support and attend to my clients in any life-situation with my professional legal-expertise as well as sound argumentative powers. Those are my "Basic Principles" as a young, savvy and down-to-earth practising Austrian Lawyer.
I am grateful for my acquired skills which I adopted within a work-intensive environment amongst the most prestigous and renowned law firms in Vienna, specialising mainly in litigation, commercial law and real estate law.
Throughout the years I have learned to master the most challenging legal tasks and to compose substantiated writs and pleadings to Courts and local as well as international authorities within strict time limits, always being accurate and on point.
The main goal to deliver solutions-oriented legal performance on basis of a reasonable fee-calculation in a very short time is of course also my personal Credo and thriving working-ethic. Thus, companies and individuals can expect a highly dedicated lawyer engaging in the subject matter in depth and with often unseen before personal effort,  case by case, day by day.
In an evolving economic and legal environment of high complexity and high-speed-transactions in which mainly still global players dominate the markets, my law firm stands for profound legal know-how, confidentiality, accountability, cost transperancy, personal dedication and a modern and unbureaucratic approach. Everybody is welcomed as a client when in need for professional legal assistance and legal representation. To me, each individual counts and it is necessary in my humble opinion that if injustice happens to my clients, my clients will get heard and promptly granted the protection of their laws as provided by the constitution.
In the brief despriction of my person above you will certainly find those additional values the satisfied clients of Christian Sander`s law-firm profit from and on which benefits and qualities they will also be able to continously count on as long as they remain a client of my law-firm. The same will certainly be the case in your case due to my appreciation of a client`s trust in his lawyer!
Yours sincerely,
Christian Sander